ST ANNE'S CATHOLIC PRIMARY SCHOOL, CAVERSHAM
'THE SCHOOL THAT'S KNOWN BY LOVE'
Are you a prospective parent looking for a school place in September 2023?
Please email me on head@st-annes.reading.sch.uk or contact the school office on 01189 375537 to book onto our open days and I would be delighted to show you round and tell you all about our fantastic school!
If you are looking for an in-year transfer for your child or a nursery place, please contact the school as above for a tour at any time.
We would love to see you and your children!




















Learning to live by faith and to be known by love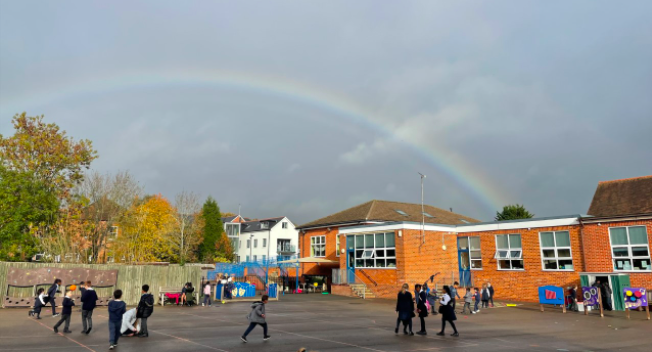 The children of St Anne's are known for their smiles, their generosity and their passion for learning! We are a vibrant, happy, forward-looking school in the heart of Caversham for children of any faith and no faith, where every pupil is scaffolded to aim for the stars. Here, we believe that children learn best when they feel safe, are loved and are challenged. As a result, teachers are committed to providing outstanding pastoral care alongside the highest quality, engaging learning experiences.
As recognised in our 2019 Ofsted report,
'The school is a small but close-knit community. There is a strong sense of family values. Relationships between staff and pupils are warm and caring. The school is highly inclusive. Pupils with all different types of need are welcomed and feel part of the school community .... At the heart of this is a strong, shared commitment to every child's success, underpinned by the school's ethos...'
Our curriculum provision is outstanding and involves teaching by subject specialists from Year 3 meaning that children experience the best quality teaching across the entire curriculum.
Currently, we have 185 children across 7 year groups. We also have a 21 place Nursery. Children come into our Reception class in the year that they are 5 and move up to secondary school at the end of Year 6, when they are 11. Our school day starts at 8.40am and finishes at 3.25pm. However, we do also have a super Before and After School Club, run by school staff which opens at 8.00 and ends at 18.00.
Please do contact the school office for a tour on 01189375537 or contact me direct via email on head@st-annes.reading.sch.uk and I would love to show you round!
Mrs Sarah Bernto
Headteacher
Contact details for enquiries
If you have any questions or queries about our school, please contact the Head - Mrs Bernto - via email on head@st-annes.reading.sch.uk or phone the school office on 01189375537.
For enquires regarding SEND, please email our SENCO - Mrs Gemma Burnitt on senco@st-annes.reading.sch.uk or phone the school office on 01189375537.
For safeguarding enquires, please contact Mrs Bernto via email on head@st-annes.reading.sch.uk or phone the school office on 01189375537 and ask to speak to the Headteacher.

School News Feed