ST ANNE'S CATHOLIC PRIMARY SCHOOL, CAVERSHAM
'THE SCHOOL THAT'S KNOWN BY LOVE'
Are you a prospective parent looking for a school place in September 2022?
Please email me on head@st-annes.reading.sch.uk and I would be delighted either to show you round to tell you all about our fantastic school!
We will also be holding the following Open Morning/Afternoon for prospective parents. No need to book: just come along!
Friday 7 January 9.30 Open Morning and 1.30 Open Afternoon
We would love to see you and your children!




















Learning to live by faith and to be known by love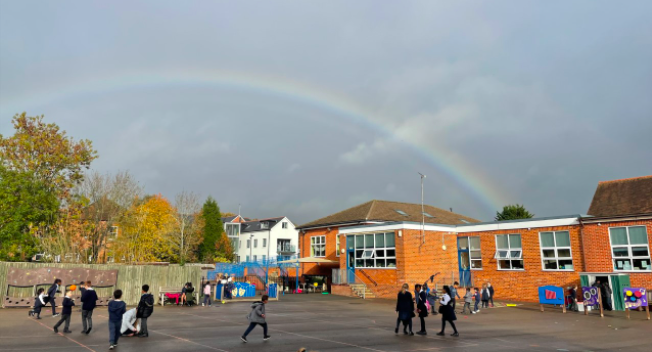 The children of St Anne's are known for their smiles, their generosity and their passion for learning! We are a vibrant, happy forward-looking school in the heart of Caversham for children of any faith and no faith, where every pupil is scaffolded to aim for the stars. Here, we believe that children learn best when they feel safe, are loved and are challenged. As a result, teachers are committed to providing outstanding pastoral care alongisde the highest quality, engaging learning experiences.
As recognised in our 2019 Ofsted report,
'The school is a small but close-knit community. There is a strong sense of family values. Relationships between staff and pupils are warm and caring. The school is highly inclusive. Pupils with all different types of need are welcomed and feel part of the school community .... At the heart of this is a strong, shared commitment to every child's success, underpinned by the school's ethos...'
Our curriculum provision is outstanding and involves teaching by subject specialists from Year 3 meaning that children experience the best quality teaching across the entire curriculum.
Currently, we have 185 children across 7 year groups. We also have a 26 place Nursery. Children come into our Reception class in the year that they are 5 and move up to secondary school at the end of Year 6, when they are 11. Our school day starts at 8.40am and finishes at 3.25pm. However, we do also have a super Before and After School Club, run by school staff which opens at 8.00 and ends at 18.00.
Please do contact the school office for a tour on 01189375537 or contact me direct via email on head@st-annes.reading.sch.uk and I would love to show you round!
Mrs Sarah Bernto
Headteacher
Contact details for enquiries
If you have any questions or queries about our school, please contact the Head - Mrs Bernto - via email on head@st-annes.reading.sch.uk or phone the school office on 01189375537.
For enquires regarding SEND, please email our SENCO - Mrs Gemma Burnitt on senco@st-annes.reading.sch.uk or phone the school office on 01189375537.
For safeguarding enquires, please contact Mrs Bernto via email on head@st-annes.reading.sch.uk or phone the school office on 01189375537 and ask to speak to the Headteacher.
14 January 2022
Please find above this week's newsletter which contains an important letter from the Head and Chair of Governors.
12 January 2022
Confirmation Preparation Dates
-Wednesday 26th Jan at 4pm there will be an initial meeting with parents and children in the Cenacle led by Fr Patrick and Cathy Freddi (the Parish Catechist)
-Sunday 30th January at 10am there will be an Enrolment Mass
-Wednesday 2 February at 4pm classes will start in the Cenacle. These will be held fortnightly thereafter and will be led by Fr Patrick.
First Holy Communion Preparation
We have today sent out letters regarding enrolment in Y3 First Holy Communion preparation. If you would like your child to receive the Sacrament, please complete the form sent out via School Ping and return to school by Monday 17 January.
Thursday 27th January at 3.45 in the Cenacle - first meeting for children receiving the sacrament plus their parents/carers
Wednesday 9th February 4.15 in the Cenacle - First Holy Communion preparation sessions begin. They will then continue on alternate Wednesdays.
7 January 2022
Please check out today's newsletter for pictures of our dotty week! But I just had to share this photo with you of Reception children role-playing the Nativity in their free flow time!
2 January 2022
Wishing all our families and visitors to this site a blessed New Year: may 2022 bring much happiness, love and laughter.
Information about Covid for parents and carers
In the light of all that has been in the press over the last fortnight about the highly transmissible nature of Omicron, I thought it might be helpful to share information relating to our Covid risk assessment and contingency plan.
Risk assessment and Contingency Plan
In line with guidance from the Department for Education, we have drawn up a risk assessment including protocols and procedures that will be in place when the children return to school on Wednesday 5th January. We also have a contingency plan which details extra steps that may be taken should an enhanced response be deemed necessary as a result of a national/local increase in Covid numbers and/or an increase within our school.
Attendance
Above all, it is important to state that attendance is mandatory for all pupils of compulsory school age. This means it is your legal duty as a parent to send your child to school.
If you have concerns about your child attending, please email me on head@st-annes.reading.sch.uk to discuss.
Remote education if your child cannot attend school or college
All state-funded schools must provide remote education for school-aged children who are unable to attend school due to following government guidance or law relating to COVID-19 (for example if they need to self-isolate, or if they have tested positive but are well enough to learn from home).
Our provision is to be found on the school website under the tab 'Self-isolating? Here is your work!' Children working from home should complete learning for around 5 hours per day. Please contact me on head@st-annes.reading.sch.uk if your child is learning at home and does not have access to a device.
Positive rapid lateral flow test results/Symptoms of Covid
Anyone with a positive test result and/or symptoms of Covid will need to:
self-isolate in line with the stay at home guidance and book a PCR test to confirm the result. Whilst awaiting the PCR result, the individual should continue to self-isolate.
If the PCR test is taken within the 2 days following the positive LFD result, and is negative, it overrides the self-test LFD test and your child can return to school as long as they don't have COVID-19 symptoms. However, you and your household must continue to self-isolate if:
this PCR test result is positive
you choose not to take a follow-up PCR test
your follow-up PCR test was taken more than 2 days after the positive LFD test result
If your child has one or more Covid symptoms and/or you suspect that your child has Covid, please do not send them to school. You should follow public health advice on when to self-isolate and what to do.
Please note that if you insist on your child attending school when they have symptoms, the school can take the decision to refuse your child if, in our reasonable judgement, it is necessary to protect other pupils and staff from possible infection with COVID-19.
Tracing close contacts and isolation
Adults who are fully vaccinated and all children and young people aged between 5 and 18 years and 6 months identified as a close contact of someone with COVID-19 are strongly advised to take a Lateral Flow test every day for 7 days and continue to attend their setting as normal, unless they have a positive test result.
Children under 5 years are exempt from self-isolation and do not need to take part in daily testing of close contacts.
Symptoms and testing
All school staff will continue to be encouraged to test twice weekly at home, with lateral flow device (LFD) test kits, 3 to 4 days apart. We would kindly ask that parents/carers and other visitors also undertake a lateral flow device (LFD) test before entering the school building.
What school will look like when we return in January
Mixing ('bubbles')
The DfE is no longer recommending that children be kept in consistent groups ('bubbles'). As a result, whole school assemblies will resume and all year groups will be able to mix at break/lunchtimes.
Face coverings
Staff will wear a mask when moving in corridors and shared spaces. They will not be worn in the classroom. We would kindly ask that parents and visitors wear a mask when coming inside the school building.
Parent attendance at school events/visitors
At this time, we plan to continue inviting parents and visitors into school. As above, we would kindly ask, however, that all visitors to the site undertake a lateral flow test before entering and wear a face mask.
Trips
Off site visits will continue at this time. They will be fully risk-assessed with Covid being included in the assessment.
Hygiene
Children and adults will continue to use hand sanitiser and/or to wash hands with soap for 20s a minimum of four times a day and used tissues will be disposed of in lidded bins.
Cleaning
Frequently touched surfaces will be cleaned twice daily and all cleaning will be undertaken using both warm, soapy water and a bleach solution.
Ventilation
All classes have a CO2 monitor so that adults can be alerted when windows need opening. As a general rule, classroom windows will be open (weather permitting).
Pupils entitled to Pupil Premium Funding
Should a pupil who is entitled to PP funding be required to self-isolate, the school will provide a food voucher to assist with costs. Please contact the school office on admin@st-annes.reading.sch.uk if you believe this applies to you/your child.
Vulnerable pupils
The school will maintain close contact with any vulnerable child who is self-isolating. This includes (but is not reserved to) children with a social worker.
Financial support to care for a child who is self-isolating
Please note that you may be eligible for a one-off Test and Trace Support Payment of £500 from your local authority if your child has been advised to self-isolate by NHS Test and Trace. Further information on claiming financial support under the Test and Trace Support Payment scheme is available.
I hope that you find this information helpful and reassuring. Should you have any questions, please do email me on head@st-annes.reading.sch.uk
God bless,
Sarah
2.1.22
17 December, 2021
We have had the most wonderful week preparing for the birth of Jesus including a Christmas dinner, Christmas jumper day, class Christmas parties as well as our wonderful Early Years and KS1 Nativity and awesome KS2 Carol Service.
All that remains is for us to wish you all a joyful and blessed Christmas: may the light of the Christ child fill your hearts and homes.
NOTICES FOR THE WEEK

School News Feed