ST ANNE'S CATHOLIC PRIMARY SCHOOL, CAVERSHAM
'THE SCHOOL THAT'S KNOWN BY LOVE'
Are you a prospective parent looking for a school place in September 2022?
Please email me on head@st-annes.reading.sch.uk and I would be delighted either to show you round to tell you all about our fantastic school!
We will also be holding Open Mornings/Afternoons on 5 October at 9:30, 19 October at 9:30, 21 October at 1.30, 12 November at 9:30, 12 November at 1.30. Just drop in for a tour.




















Learning to live by faith and to be known by love
The children of St Anne's are known for their smiles, their generosity and their passion for learning! We are a vibrant, happy forward-looking school in the heart of Caversham for children of any faith and no faith, where every pupil is scaffolded to aim for the stars. Here, we believe that children learn best when they feel safe, are loved and are challenged. As a result, teachers are committed to providing outstanding pastoral care alongisde the highest quality, engaging learning experiences.
As recognised in our 2019 Ofsted report,
'The school is a small but close-knit community. There is a strong sense of family values. Relationships between staff and pupils are warm and caring. The school is highly inclusive. Pupils with all different types of need are welcomed and feel part of the school community .... At the heart of this is a strong, shared commitment to every child's success, underpinned by the school's ethos...'
Our curriculum provision is outstanding and involves teaching by subject specialists from Year 3 meaning that children experience the best quality teaching across the entire curriculum.
Currently, we have 197 children across 7 year groups. We also have a 26 place Nursery. Children come into our Reception class in the year that they are 5 and move up to secondary school at the end of Year 6, when they are 11. Our school day starts at 8.40am and finishes at 3.25pm. However, we do also have a super Before and After School Club, run by school staff which opens at 8.00 and ends at 18.00.
Please do contact the school office for a tour and I would love to show you round!
Mrs Sarah Bernto
Headteacher
Contact details for enquiries
If you have any questions or queries about our school, please contact the Head - Mrs Bernto - via email on head@st-annes.reading.sch.uk or phone the school office on 01189375537.
For enquires regarding SEND, please email our SENCO - Mrs Gemma Burnitt on senco@st-annes.reading.sch.uk or phone the school office on 01189375537.
For safeguarding enquires, please contact Mrs Bernto via email on head@st-annes.reading.sch.uk or phone the school office on 01189375537 and ask to speak to the Headteacher.
19 October, 2021
It was great to see so many parents at the Next Schools Presentation this evening. Please see above the powerpoint.
15 October, 2021
I have to say that I am very excited: this weekend, we are hiring a drone to shoot some footage of the school and its grounds for the school promotional video. I have been appointed director of operations!!! I am very optimistic that this means I will get to drive the drone and have a special director's chair!
Please check out this week's newsletter for updates of what the children have been up to and some important information about the Christmas performances.
8 October, 2021
This week has seen owls visiting Nursery, a Maya archeologist visiting Y5, a prison governor and a prison officer visiting Y6 and Years 5 and 6 attending a drumming workshop at Queen Anne's! See the newsletter for photos and details as well as more information about our British Council partner school Ol Moran.
1 October, 2021
This morning started with a wonderful whole school assembly attended by the parents and carers of pupils in Y6. The children were awarded with their gold ties, marking them out as leaders of the school.
The One World Council, Reading, Sports and Music leaders were also announced. These children should be congratulated on their appointment since they were chosen on the basis of their written applications, interviews with senior leaders and most especially on the recommendation of their teachers.
24 September 2021
Please see attached this week's newsletter. Please note that there are some new dates included including a Next Schools Presentation for parents of children in Y4 and Y5 as well as the first whole school Mass in church.
19 September 2021
COVID-19 Update
We now have confirmed cases in Y1 and Y4. A number of parents have contacted the school about whether their child should self-isolate. Government guidance is that no child under 18 should self isolate unless contacted by Track and Trace and asked to do so.
We would kindly request, however, that should your child show any signs at all associated with Covid (a temperature, cough or change to sense of taste or smell) that you keep them at home and get a PCR test. Once the test comes back - if it is negative - your child can return to school.
Last week, we had a case of a parent who had a child with a very slight cough (which was assumed to be asthma). On our request, the parent did seek a PCR test and this came back positive! Please help us to keep everyone safe as this parent did.
Many thanks,
Sarah.
17 September 2021
Welcome to our Reception children of 2021!
We have been really lucky this week to have started working with 14 wonderful volunteers from The Oratory school. The GCSE and A Level students are working with children from Years 1-6 every Thursday afternoon. See the newsletter for more details.
I hope that all parents have now had time to download the School Ping app to their phone. We are now sending all letters, newsletters, surveys etc out via this route. Please do contact Trudy on admin@st-annes.reading.sch.uk if you are having any problems.
10 September 2021
We have had a wonderful week and are now fully immersed in our exciting new learning. The new Reception children have joined us this week and Year 6 are loving helping their buddies!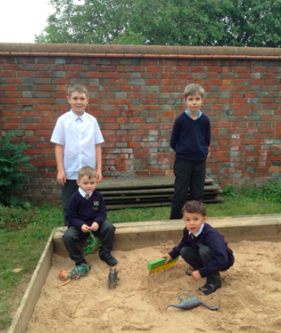 WELCOME BACK!
We have had an awesome first day back starting with our first whole school assembly in a year and a half! It was fabulous to see the whole community together and the children were unbelievably excited at the prospect of being able to play with friends from other year groups. During the course of the day, pupils have been learning about our new partner school in Kenya - Ol Moran.
For more information, please see this week's newsletter.
Vacancies
If you are interested in a position as a Teaching Assistant or as a Business Manager with us, please check out the advertisement on the Vacancies page. We would love to hear from you!
NOTICES FOR THE WEEK

School News Feed