ST ANNE'S CATHOLIC PRIMARY SCHOOL, CAVERSHAM
'THE SCHOOL THAT'S KNOWN BY LOVE'
Are you a prospective parent looking for a school place in September 2022?
Please email me on head@st-annes.reading.sch.uk and I would be delighted either to show you round to tell you all about our fantastic school!
We would love to see you and your children!




















Learning to live by faith and to be known by love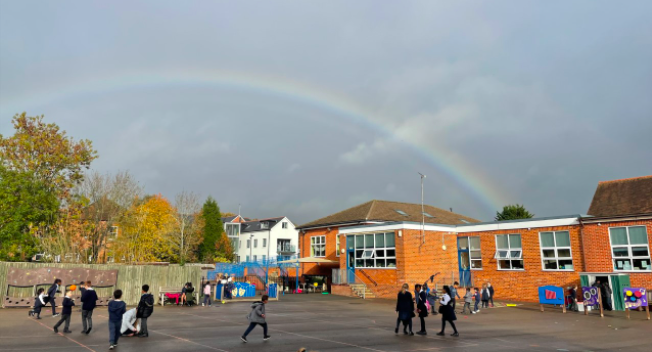 The children of St Anne's are known for their smiles, their generosity and their passion for learning! We are a vibrant, happy, forward-looking school in the heart of Caversham for children of any faith and no faith, where every pupil is scaffolded to aim for the stars. Here, we believe that children learn best when they feel safe, are loved and are challenged. As a result, teachers are committed to providing outstanding pastoral care alongside the highest quality, engaging learning experiences.
As recognised in our 2019 Ofsted report,
'The school is a small but close-knit community. There is a strong sense of family values. Relationships between staff and pupils are warm and caring. The school is highly inclusive. Pupils with all different types of need are welcomed and feel part of the school community .... At the heart of this is a strong, shared commitment to every child's success, underpinned by the school's ethos...'
Our curriculum provision is outstanding and involves teaching by subject specialists from Year 3 meaning that children experience the best quality teaching across the entire curriculum.
Currently, we have 185 children across 7 year groups. We also have a 21 place Nursery. Children come into our Reception class in the year that they are 5 and move up to secondary school at the end of Year 6, when they are 11. Our school day starts at 8.40am and finishes at 3.25pm. However, we do also have a super Before and After School Club, run by school staff which opens at 8.00 and ends at 18.00.
Please do contact the school office for a tour on 01189375537 or contact me direct via email on head@st-annes.reading.sch.uk and I would love to show you round!
Mrs Sarah Bernto
Headteacher
Contact details for enquiries
If you have any questions or queries about our school, please contact the Head - Mrs Bernto - via email on head@st-annes.reading.sch.uk or phone the school office on 01189375537.
For enquires regarding SEND, please email our SENCO - Mrs Gemma Burnitt on senco@st-annes.reading.sch.uk or phone the school office on 01189375537.
For safeguarding enquires, please contact Mrs Bernto via email on head@st-annes.reading.sch.uk or phone the school office on 01189375537 and ask to speak to the Headteacher.
SUMMER HOLIDAYS!
What a year 2021-22 has been! It has been wonderful to get back to normal and to enjoy some of our usual celebrations, events and trips but now it's time to say goodbye and a massive thank you, especially to our wonderful Year 6 children and to the awesome, amazing Miss Bartolomei, Miss Kujawa and Mr Smith; we are going to miss you all so very, very much! All that remains is to wish you all a wonderful summer holiday; have an awesome break, make lots of memories, read widely and stay safe!
Wishing you a fabulous holiday! Mrs B.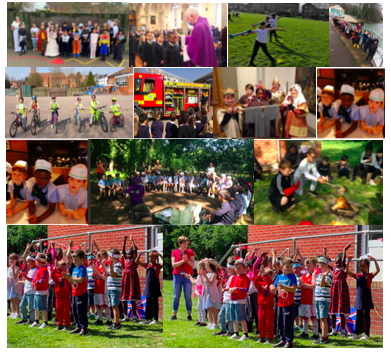 Message from Mrs B to our Leavers
Leavers' Assembly 2022
This year has been one of a kind with some of the old pre-Covid traditions thrown back in again. It has been really lovely in fact to see some of our school traditions reinstated: Christmas Easter and Summer performances, going to Mass, Sports Day, Transition Days and just this week Leavers' Mass and now the final get together of the year – Leavers' Assembly.
Y6 as you stand here today ready to walk through the blue gates of St Anne's one last time, you should know how very proud we all are of you. You have done amazing things: have been fabulous buddies to the little ones, have encouraged those who are younger than yourselves, have set an example for others to emulate and achieved outstanding results … and all this against a backdrop of multiple lockdowns. No cohort before you has had to sit SATs and be judged at pre-Covid standards having missed out on so much education. The resilience you have shown and the dedication you have displayed to your learning have served you well this year and will continue to serve you well in the years to come.
And it is not just Y6 who are leaving us; Miss Bartolomei, Mr Smith and Miss Kujawa are also departing to embark on new adventures here and abroad. Miss Bartolomei I know the children will miss your bubbly enthusiasm and your readiness to go out on a trip when everyone else wants to stay in their nice cosy classroom! Mr Smith –so many of the children in this room have relished your basketball sessions and have felt they belong because of your openness. And Miss Kujawa – you have inspired a whole era of St Anne's girls' fashion sense and have always provided a listening ear and a hand to hold on the playground.
This school is the school that is known by love and you Y6 and Miss Bartolomei, Mr Smith and Miss Kujawa - are loved. You are loved by your peers, your fellow students in other year groups and by the staff. You have been a part of our community – some of you for 7 years – and your footprint will remain on the corridors of the school and in the hearts of the people you have met here.
If you take away one thing from your time at St Anne's, may you strive always to live by our faith and to be known by love.
15th July, 2022
Robin Hood - a wonderful play - by Y6!
It is getting hot! I can't quite believe that the summer holidays are approaching and the sun is still shining; this must be a first!!! This week, we have enjoyed the Summer Fayre, Transition Mornings for our new Reception Class, whole school Transition Day and the Y6 play. Please check out this week's newsletter for photos as well as details of the Leavers' Mass (next Monday) and Leavers' Assembly (next Wednesday). Tea and coffee for parents and carers will follow the assembly; please do come along!
8th July, 2022
Please do check out this week's newsletter with photos of the Y6 Residential as well as a piece on uniform and reminders regarding next week's Beach Trip.
1st July, 2022
It was wonderful to see so many parents at today's RSE Presentation. If you were unable to attend, please check out the RSE Policy posted above and the RSE presentation which is on the Parent Presentation page of this website.
Please do check out this week's newsletter for important information about the statutory tests that some children have taken recently and how the results will be communicated. We also have some fantastic photos from Sports Day!
24th June, 2022
What a fabulous family breakfast was held this morning! From painting apple trees in Nursery through to Leavers' Mass at Douai Abbey for Y6, this week's newsletter is packed with wonderful photos and key information.
Please do come along to Sports Day on Tuesday next week. The timings are as follows:
KS2 (Y3-Y6) 9.30-12
Nursery 1-1.30
Reception and KS1 (Y1-Y2) 1.30-3.15
On Friday next week, we have a Parent meeting to discuss the draft RSE Curriculum. I will be showing videos and materials that we propose using in lessons: please do come along!
16th June, 2022
Please find above this week's newsletter with a round up of the week's events and news of who will be in each class next year.
Next year's teams will be as follows:
In Nursery – Mrs Orife and Miss France
In Reception – Mrs McAdden and Ms Bradshaw
In Y1 – Mrs Houghton, Miss Kujawa and Ms Szram
In Y2 – Mrs Talbot (Mrs Cosgrove will be on Maternity Leave) and Ms Andrew
In Y3 – Miss Fenning and TA TBC
In Y4 – Mrs King and Miss Bell
In Y5 – Mrs Liarakou and Mr Gaylor
In Y6 – Mrs Trevithick and Miss Brown
Mrs Wilkes will continue to deliver small group literacy to children in KS2 and Mrs Glasford will continue to work with the small literacy group and to work as HLTA across all classes.
13th June, 2022
We would like to invite all parents and carers to a meeting on Friday 1st July at 9am as part of our RSE Policy Consultation. At this session, I will present the draft RSE Policy (see above), will share examples of the resources we propose to use and will answer any questions you may have.
10th June, 2022
What a glorious day! Could it be that summer is starting?! Please check out today's newsletter for photos of our Jubilee celebrations as well as this week's fun and learning.
2nd June 2022
Huge thanks to the Diocese of Birmingham who have awarded us a grant to cover 90% of Phase 2 of the windows project. This means we can replace the rotting frames in the hall and Nursery.
You may have noticed that the front doors have recently been automated, providing disabled access. This was part of Phase 1 of the windows project!
Huge thanks also to Speaking Volumes who awarded us a grant of £250 to spend on books relating to our faith. We are hugely looking forward to receiving these new texts which will enable our children to access stories about their faith in an exciting way.
27th May 2022
Please see above this week's newsletter with a round up of the week's events and key dates for the coming term. These include:
Monday 6.6.22 INSET
Tuesday 7.6.22 Term starts
Tuesday 7.6.22 7pm Confirmation Mass
Friday 10.6.22 Curriculum Letters and Knowledge Organisers to be sent home
Thursday 16.6.22 Y5 trip to The Heights Enterprise Day
Friday 17.6.22 Y6 Leavers' Mass at Douai Abbey
w/c 20.6.22 Y1 Phonics Screening Check
Friday 24.6.22 PSA class rep tea with Mrs B
Tuesday 28.6.22 Sports Day + Picnic
Wednesday 6.7.22-8.7.22 Y6 Residential at The Oratory School
Thursday 7.7.22 6pm New Reception Parents' Meeting
Saturday 9.7.22 Summer Fayre – all children to attend as each class is doing a performance
w/c 11.7.22 Other Faiths Week
Tuesday 12.7.22 Back up Sports Day + Picnic
Wednesday 13.7.22 New Reception Stay and Play
Thursday 14.7.22 New Reception Stay and Play + whole school Transition Morning
Friday 15.7.22 Whole School Beach Day
Monday 18.7.22 Y6 Water Fight
Monday 18.7.22 Reports to be sent home
Tuesday 19.7.22 Y6 Play and BBQ
Wednesday 20.7.22 11am Leavers' Mass
Wednesday 20.7.22 1pm Term Ends
20th May 2022
Please see this week's newsletter for lots of important dates, including:
As a school, we are celebrating the Queen's Platinum Jubilee on Friday 27th May. We will be doing a selection of activities throughout the day, but we would like to invite you and your families to join us on the school field at 2:45pm. Please bring a picnic blanket and some sweet treats to enjoy whilst watching our performances of songs from the past 7 decades.
Have a lovely weekend.
Thanks,
Emily
Dates (for Y6 parents in particular):
27th May Jubilee Celebration: parents are welcome to join us at 2.45 for singing and cakes
w/c 6th June swimming starts for Y4, 5 and 6 – Wednesday afternoons
w/c 6th June drama starts for Y6 - Thursday afternoons
7th June 7pm Confirmation Mass
17th June Douai Abbey Leavers' Mass (parents are welcome to attend)
w/c 20th June Bikeability for Y6
28th June Sports Day
6-8 July Y6 Residential
15th July Whole School Beach Day
18th July Y6 water fight
19th July Y6 play and BBQ
20th July Leavers' Mass/Prize giving
And please don't forget, school photos are Tuesday next week (24th May). Please make sure that your child is wearing uniform and not PE kit. If they have PE on that day, children should wear uniform to school and bring kit in with them.
17th May 2022
Please note that the Parent Workshop on RSE scheduled for Monday 23 May has been postponed. We will send out a new date in due course. Sincerest apologies for the inconvenience.
13th May 2022
Please see attached this week's newsletter.
12th May 2022
We are advertising for a new Clerk to the Governors. For the job description and person specification, please see our Vacancies page.
The Federation of St Anne's & St Martin's Catholic Primary Schools,
Caversham, Berkshire
Clerk to the Governors - advert
Employer: The Federation of St Anne's and St Martin's Catholic Primary Schools
Closing on: 6 June 2022, 12 noon
Working Pattern: Variable, 24 hours per month, term time only. Evenings & Daytime required
Start Date: ASAP
Salary: NJC RG3 SP 5 - 11 (£10.01 - £11.27 per hour) depending on experience
DBS Check: Enhanced
Location: Caversham, Reading
Our Schools
St Anne's and St Martin's are Catholic Primary schools located in Caversham, Reading. Both are single-form entry schools, judged Good at their last Ofsted inspection. Our Federated Schools offer a thriving, vibrant and caring community where the children are stretched intellectually, whilst feeling valued, happy and safe. Life at both St Anne's and St Martin's provides the platform, challenge and expertise for our children to grow spiritually, morally and socially. We pride ourselves on our strong Catholic values.
The role
The governing body is seeking to appoint a Clerk who will provide advisory and administrative support to enable it to meet its duties in an efficient and effective way. Members of the Governing Body are volunteers who work closely with the senior leadership team in a strategic capacity to determine the future direction of the school.
Main responsibilities
Reporting to the Chair of Governors, this key role ensures the effectiveness of the Governing Body. As Clerk, you will primarily be responsible for:
advising the Governing Body on procedural matters
preparing agendas in consultation with the Headteachers and the Chair of Governors
taking and writing up the minutes at meetings
distributing documentation
providing general administrative support to the Governing Body
The successful candidate
We are looking for the following personal attributes in a clerk:
an interest in acquiring a sound understanding of governance legislation and procedures
excellent communication and organisational skills
be able to work independently whilst at the same time forming effective relationships with the Governors, Headteachers and Bursar
Experience of working within a school Governing body is desirable, but not essential
Time commitment
This post will work on a flexible basis so the successful candidate must be able to organise their own time and work to strict deadlines. There will be approximately 4 full governors' meetings, ten daytime committee meetings over the academic year, plus time needed to prepare materials both in advance and after meetings.
For more information and an application pack please contact admin@stmartins.reading.sch.uk
Closing date 6th June 2022. Interview date tbc.
6th May 2022
Today has been utterly amazing! The children - and adults - have had a fantastic Outdoor Learning and Wellbeing Day including eating popcorn cooked over a camp fire, planting seeds and bulbs, doing a scavenger hunt and much, much more. Check out today's newsletter for photos.
3 May 2022
Some of you will recall that a few years ago, we consulted on a draft Relationships and Sex Education Policy and Curriculum (in line with government requirements). At this time, we described a curriculum delivered using the TenTen programme. Recently, we have decided that we would like to move away from this provision and to switch to the programme provided by 1Decision who provide our PSHE scheme. Since we are making a significant change to our provision and curriculum, we are going out to consultation once again.
- We are holding a parent information session at 9am on Monday 23rd May. During this session, I will share information about the proposed curriculum and will show some excerpts from videos on more sensitive topics including puberty.
- Following the meeting, we will send out an online survey about the proposed policy and curriculum to collect your thoughts.
- I am also attaching our draft policy to the front page of the website for your information and would ask that you email me on head@st-annes.reading.sch.uk with any questions.
29th Apriil 2022
Please do check the calendar at the bottom of this page for upcoming events. I draw your attention in particular to the following:
29.4.22 Curriculum Letters and Knowledge Organisers out to parents
6.5.22 Whole school Outdoor Learning Day
w/c 9.5.22 KS2 SATs Week
w/c 16.5.22 KS1 SATs Week
w/c 23.5.22 Assessment Week
27.5.22 Queen's Jubilee Day + END OF TERM
A reminder also that next Friday is the third of our Wellbeing Days this year and will focus on outdoor learning and fun. We ask that children in all year groups wear home clothes: specifically, home clothes that can get muddy and wellies/trainers that can get dirty. Please ensure that your child has enough layers on to keep warm and a waterproof jacket + a hat as we will be outside ALL DAY come rain or shine! The activities will include planting bulbs/seeds, eating popcorn cooked over a camp-fire, grounding meditation, a variety of games, woodland crafts, a scavenger hunt, an outdoor liturgy and watercolour painting.
25th April, 2022
If you are an ECT or a qualified teacher and are looking for a new position in September, please do check out our Vacancies page. We are currently recruiting for a lower KS2 teacher!
8th April, 2022
As we approach Holy Week, Y3 provided us with a beautiful and moving reminder of the sacrifice that Jesus made for us in order that we might live and love.
I wish you all a joyous Easter when it comes; may the light of the Risen Christ fill your homes and hearts.
God bless,
Sarah.
NOTICES FOR THE WEEK

School News Feed