Collective Worship
INTENT
As a Catholic community, collective worship is fundamental to living out our Christian ethos. We aim to ensure that all children are given the opportunity to grow in spiritual awareness and to develop their relationship with God.
IMPLEMENTATION
As well as daily class prayers, we participate in the following collective worship each week:
Monday: Gospel Worship– The Head teacher leads the school in worship centered around the Gospel of the previous Sunday.
Tuesday: Worship through Song - The whole school meets to praise God through song.
Wednesday: Class Worship– Children prepare and lead worship in their class on topics of their choice and relevant to current affairs.
Thursday: KS worship - Children meet in Key Stages (EYFS/KS1 and KS2) and worship together. Class assemblies - to which parents are invited - are sometimes held during this time.
Friday: Breakfast with the Head and Class Praise/Reflection on a Big Question - 2 children from each class meet with the Head to celebrate their achievements whilst the rest of the pupils celebrate in class and/or reflect upon a Big Question.
We also come together with our parish community to celebrate Masses during the term.
IMPACT
Our Faith binds us, inspires us and guides us.
SCHOOL PRAYER
This is our school prayer, written by an ex-pupil, Chantelle Bassey
Prayer to St Anne
O glorious St Anne, mother of Mary, filled with love and compassion, protect us and guide us and give us your blessing.
O wonderful St Anne, who conceived the Mother of Jesus, pray for us and help us always to live by faith and to be known by love.
PRAYER LIFE
This year, we are focussing a lot on developing the prayer life of our community. We have been learning the Rosary and doing Christian meditation (which we love). Children from Year 3 to Year 6 lead the class liturgy each week. We also love to write our own prayers and offer them at our class altar.
VIRTUES AND VALUES
Each term, we focus on different Catholic virtues and values.
In Autumn 1,we focused on being
In Reception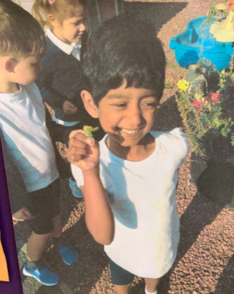 In Autumn 2, we zoomed in on being Intentional and Prophetic. We looked at how Saints - such as Teresa of Avila - are intentional in choosing how they wish to be seen and acting accordingly. We also reflected on the prophecies of Isaiah and on being a modern prophet.
Spring 1 saw a focus on being grateful and generous. We focussed on how these values were seen in the Christmas story, through the life of Jesus and through the work of the saints.
In Spring 2, we tried to be more attentive to God's call and to be discerning in decisions we make. We decided that God would like us to be more attentive to Scripture and less attentive to computer games!
BIG QUESTIONS
We like to think about the Big Questions in life.
OUR PRAYER BOARD
Please email Mrs Bernto on head@st-annes.reading.sch.uk if you would like us to add a name to the prayer board.
At this time, we ask you to hold in your prayers:
Fr Patrick
Fr Patrick is our parish priest at Our Lady and St Anne's. He is currently on leave from his role and the Bishop has asked that we hold him in our prayers at this time.